Get Your Car or Van Wrap Quote
Car wraps offer a massive range of options, whether you're after custom vehicle graphics with a vibrant twist or a subtle, stylish finish. Here the Wrap UK team looks at some of the top custom wraps for 2021 and the modern design trends sweeping the UK.
Not sure what type of vinyl to use, or need inspiration for your summer vibe? Look no further.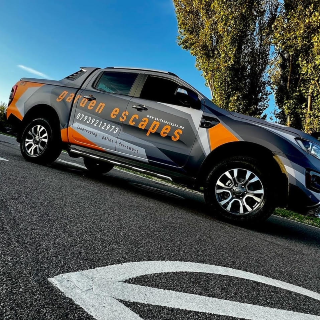 1. Snow Camo Car Wraps
Snow camo is a big deal this year. It's angular, visually compelling, and stands out from other more conventional car wraps. Blending three shades of white, grey and black, the neutral colours clash and contrast, creating a sense of balance that looks awesome on the road.
We love how this seamless 3M wrap style looks just as cool on a super-fast sports car or an everyday SUV, with a serious twist. Snow camo custom wraps are universally attractive and match with features such as chrome detailing, tinted windows or blacked out glass.
2. Custom Wraps in Matte Black
We love an iridescent, sparkly finish – but matte black is such an understated design, we're seeing it on everything from beefy Range Rovers to sleek Lamborghinis.
You don't have to go for black custom vehicle graphics with a matte surface, although this is one of the most popular designs for 2021. Car wraps in a matte finish have accentuated curves and sharper edges, smoothing over any blemishes while making the interior pop. It's unusual, striking, and a tad sinister (batmobile anyone?) – and looks so tactile you'll need to resist the temptation to touch.
Black vinyl wraps may not be new to the market, but their aura of elegance and exclusivity means this classic design isn't going anywhere. You can create an exotic impression with a full-body black matte wrap or use it to design a bespoke two-tone finish.
3. Textured PWF Wrap
PWF is the ultimate in car wrap quality and has a ridiculously vast range of crazy colours, textures, finishes and feels. Limited edition, exclusive colours, bold metallics – PWF is a wrap aficionado's dream.
You can learn more about this innovative brand in our guide to using PWF Wrap for a Superior Finish. Check out some of our latest projects, or visit the PWF gallery for some of their ranges – we love the Matt Bond Gold – it's shiny, chic, powerful, and looks incredible on any car. 
As we all break out of lockdown and look for new ways to explore our creativity, the Wrap UK team has seen a boom in car owners looking for a PWF wrap that will bring a new dimension to the curves of their ride. Textured wraps are truly unique and are becoming as versatile as any interior. For example, brushed metal is an incredible look for a military-inspired body, or a shadow wrap allows us to craft the appearance of ombre.
4. Small Business Custom Vehicle Graphics
Next up, we're looking at car wraps, a little less supercar and a little more self-employed. Let's explain…
Over the last year, millions of people have decided to go freelance or start a self-employed business – around 14% of people in the UK now work for themselves. Small businesses don't tend to have vast marketing budgets, but what they do have is the option of leveraging the potential of custom vehicle graphics to advertise their services everywhere they go.
From decals on rear windows to clever logos on doors, customising your car is multiplying in popularity, with everyone from personal trainers to hairdressers, tradespeople to security firms jumping in on the action. Everyday cars, customised with pro-quality car wraps? We're all for it!
5. Avery Supreme Wraps
Launched back in September 2020, there are five new Supreme colours available in the distinctive Avery brand – which we, of course, supply here at Wrap UK! New colour ways include slick obsidian black, metallic grey in a satin sheen, deep glossy blue, metallic green and incredible metallic silver.
These new car wraps have a deeper pigment for greater depth of colour and a more intense finish. Each car wrap film is an 80-micron premium cast design and expected to last for up to 12 years with the proper care and maintenance.
If you've put your car wrap project on hold over the last year, now is a perfect time to get onto this new trend and snag one of the most exclusive supercar wrap designs on the market. Each of these new shades is stunning – and in Spring 2021 are complemented by even more options, including a gloss 'mystery' black, a sumptuously deep indigo, metallic prismatic grey and a tempting shade called Hidden Forest.
6. Window Tints
Finally, let's not forget the smaller details that make such an impact on the appearance of your car.
Now, there are laws around window tinting, but provided you keep the tint light on the windscreen and front windows, you're fine – here's a recap of the regulations:
Windscreens need to allow at least 75% of light to flow in.
Front windows cannot be tinted to over 30%.
Heavy tints are banned on these windows but not on the rear of the vehicle.
Once reserved for dignitaries and security details, tinted windows are still big business. They improve privacy, and are proving a functional option popular in family cars, ensuring that little ones can sleep soundly on a long trip, snug in their car seats.
Window tints are also widely used in cabs or chauffeur vehicles, so tired travellers can relax. Tinted windows demonstrate exclusivity and create a seamless finish across your car that speaks of luxury and prestige.
We've covered here some of the biggest trends in custom vehicle graphics for 2021 – but don't hold back if you've got something a little out there in mind! The Wrap UK team are experts in bespoke car wrap design, and we're always available to collaborate on a truly individual project to turn your wildest imagination into reality.
Provide us some base information to get your quote ASAP.